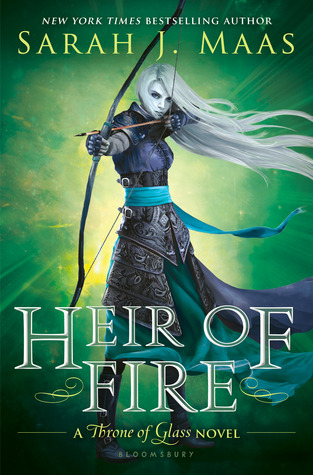 Book Overview:
Title: Heir of Fire (Throne of Glass #3)
 Author: Sarah J. Maas
Genre: Teen Fantasy
Publication Info: Bloomsbury Childrens, Sep. 2, 2014
Synopsis: After the death of her best friend, Celaena vows to end the King of Adarlan's rule by traveling to Wendlyn and discovering the secrets of the King's power. Yet she quickly finds that, to defeat the king, she must come to terms with  her true identity and destiny.
 Book Review:
Overall Rating: 5/5
This book is by far the best and most amazing threequel (yes, that is a word) I have ever read. I honestly cannot find words to describe how perfect this novel is, so I will attempt to say what this novel isn't.
Heir of Fire is not a resolution or ending. It is not a continuation or simply another step in the chain of events. It is not a quest story. It is not a teen fantasy story. It is not a romantic love triangle story. And it is not the story of Celaena, or Chaol, or Dorian.
Heir of Fire is the story of Adarlan and Wendlyn and Terrasen and Ellwye, and it is the story who Celaena was and what she will become to these countries and people.
If this description seems overly vague or confusing, please know that this is intentional. Only by reading this series will you understand how truly phenomenal and revolutionary these books are. So please find time in your busy lives to read Throne of Glass, Crown of Midnight, and Heir of Fire. .
Plot:
This book begins with Calaena at the lowest point we have seen her, grieving for the loss of Nehemia, broken by ending things with Chaol, and utterly emptied of ambition and motivation. From this beginning, I knew Heir of Fire would not be the typical revenge or quest story. Celaena shows authentic signs of grief and depression throughout the novel, and because of this, her experiences become very real: even when we want to shake her for making stupid decisions or become frustrated with her apathy and indifference, we understand the emotions and drive behind her actions. Even if I didn't agree with her actions, I supported and cheered on Celaena throughout every step of the plot, and I'm so impressed by Maas' ability to keep me so well hooked.
Maas also flawlessly weaves together so many plots and characters. Although obviously Celaena is the main character, both Chaol and Dorian are given separate plot lines (along with new characters, such as Aedion and Sorscha) with their own complexity and depth. Yet everything intersects and builds together so that you quickly forget you're reading about a nonexistent world, which I consider the mark of amazing writing.
Furthermore, this book provides so much more depth and material for the series to continue. While I fully expected Maas to start wrapping up development of  the plot and world, I was delighted to find the exact opposite — in a style that reminded me of George R. R. Martin's Game of Thrones series, everything and everyone grows and becomes more complex, creating new conflicts and problems to solve. If I was invested in the series before, I am now ten times more so!
Characters:
As mentioned before, Celaena becomes even more real and human in this book through her grief and depression and apathy. Even in grief, she still remains as sarcastic and stubborn and combative as ever, but the darker emotions give depth and meaning to her responses and actions. And she is forced beyond her limits, becoming a version of Celaena we have never seen before; we learn so much of her past and see how her Fae heritage will change her future.
Both Chaol and Dorian show tremendous growth as characters, Chaol struggling to move past his feelings for Celaena and finding where his true loyalty lies, and Dorian working to control his newfound magic.
Additionally, as if the book couldn't get any better, we meet so many new characters with complex motives and personalities of their own: Aedion, Sorscha, Rowan, etc. Although all of these characters deserve descriptions of their own, allow me to expound on Rowan,  a character who becomes incredibly important. When Celaena first meets Rowan, he is painstakingly abrasive and harsh — as well as violent and potentially sadistic — and this characterization is constant for a large portion of the book. But he certainly grows and develops. The changes in his character are subtle and well-hidden, so that you don't realize how much you love this asshole until find yourself defending his every action and smiling at his sarcastic, cynical comments. Take caution.
Writing Quality:
Again, the worldbuilding Maas accomplishes in this book alone is more than in the previous books combined, with what we learn not only of Celaena's past, but also of the Fae and the Wyrdkeys (and even the Valg). Due to this, I would consider Heir of Fire a true fantasy book, because this world certainly has more complexity and background than most worlds in teen novels. And after reading this third installment, I have no hesitation in saying that this is the best teen series I have ever read, not just in depth, but also in characterization and plot and writing style.
Who I recommend this to:
EVERYONE (or more specifically, everyone who enjoys fantasy)
Fans of The Grisha series, His Fair Assassin series, Mortal Instruments series
Late high school, college, and beyond (warning: language, violence, mentions of sex and drugs)